About us
Bautista Vich Stud, founded in 1991 by the brothers Mr. Guillermo and Mr. Pedro Bautista, is dedicated to the breeding and selection of the very best Arabians and Andalusians.
The farm is located in the heart of the beautiful island of Mallorca.
First were the arabians. Guillermo Bautista fell in love with the breed when he purchased the first family riding horse, and curiously "she" was an arabian white fleabitten mare called Parrandera.
After her, we started a breeding program with three mares purchased at the famous Spanish Military Stud: Icaria, Falla and Obara; and some more purchased at the prestigious La Aldara of D. Diego Méndez Moreno.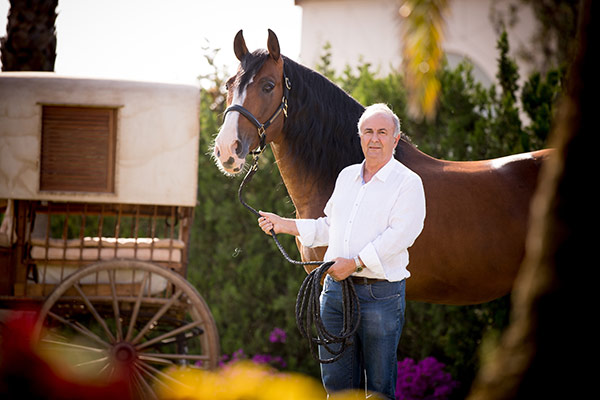 Some years after, the Polish arabians came into Guillermo's life. He was truly in love with the polish elegance, long necks and big movements and he decided to purchase at the yearly State Studs Auction celebrated in Poland the following horses: Norman, Posejdon, Avenida, Zguba, Elton and Siewka.
With these two bloodlines, Bautista Vich starts to breed Pure Spanish, Pure Polish and crosses between them.
But soon, the interest of Guillermo in the Polish horses become an obsession for the legendary and once in a lifetime Monogramm. After a long time of negotiations he finally could breed some of his best mares to him. From the crosses 4 beautiful babies were born at the farm: 3 females and 1 male.
They were: Eurogramma, Fotogramma, Electric Siluete and Fath Ali Shah.
With the time, we have introduced new bloods in our breeding program. We have used stallions like Khidar (All Nations Cup Champion and Reserve World Champion), Padrons Psyche (champion and sire of champions), Om el Extreem (2005 Spanish National Champion and Best Head at 2001 World Championship), WH Justice (The Champion Maker) and many others amazing stallions as Shanghai EA, RFI Maktub, Ajman Moniscione, RFI Farid, Emerald J… And of course, our homebred young rising stallions BV Pigmalion (WH Justice x Factura) and BV Adzharan (WH Justice x Avenida). And many more top producer stallions to come!
Antonia, Guillermo's daughter, shared his passion since she was a little girl. She traveled the world together with Guillermo to visit farms and purchase some finest horses.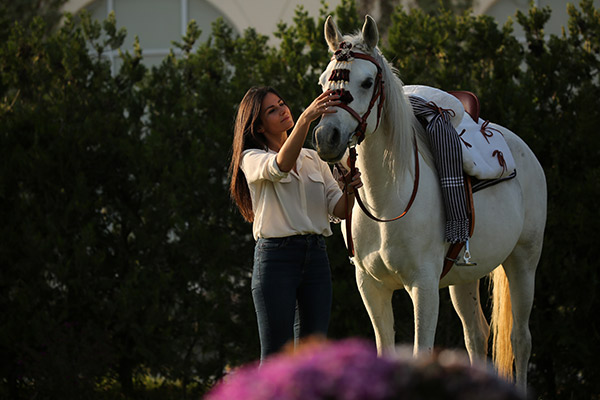 When she was a bit older, she was an active help at the farm and she always had an opinion! She started to show some of the horses of the farm herself in some small shows in Spain.
With the years, she used to take more responsibilities and started to make breeding and purchase decisions. She is since 2012 the manager of the farm.
Currently she is, as well, an official judge at the National list and also former manager of the UAE farm Al Shiraa Arabians.
Referring to the Andalusians, Bautista Vich Stud started with seven mares of big size and great conformation mostly coming from the Military State Stud of Jerez and with an exceptional bay stallion called Novelero XVII from the reputed Yeguada of D. José Luis de la Escalera, that left us some years ago.
Currently, our main stallions are Omni (Qualified stallions) bred by D. Benito Sierra, and his son, our homebred Juglar XXVI (also Qualified and Young Recomended stallion), several times Mallorca and Baleares Champion as a Junior and a Senior, and Reserve Champion at his class at the most important show worldwide: SICAB, in 2008.
With the years, we have also purchased important mares and stallions at the studs of Plaza de Armas and D. Miguel Angel de Cárdenas to fulfill our breeding program.
The quality of our horses has been reflected in many national and international shows and with happy clients all around the globe.
All our babies are raised together with their mothers in the big fields that the family owns in the most productive part of the island.
There they grow strongly and happily. After, they are weaned and they continue their developing together with their mates, during the day outside in big paddocks and during the night they sleep in the box.
Later, they are trained for show or for dressage, depending on their attributes and prospectives.
This thorough job and an extreme quality control makes possible we can offer our clients a high quality collection for show, breeding and sport.
VISITS ARE ALWAYS MORE WELCOME BY APPOINTMENT!
(Please, contact us at least with 2 days in advance. Thank you so much!)